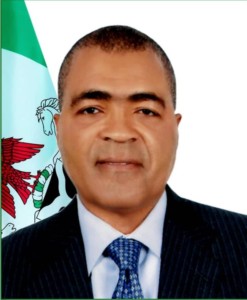 Profile of the Board Chairman
Hon. Ademola Seriki was born in Lagos Island. He had his earlier education in Nigeria and later proceed for undergraduate and postgraduate studies in the United States of America (USA) where he bagged his B.Sc. and M.Sc. in Accounting from the City University of New York in the USA. He also had a Diploma in International and Regional Security at Kennedy School of Government, Harvard University Cambridge, Massachusetts. His passion for education earned him laurels back in the United States of America, where he became a licensed Accounting and Business Mathematics teacher with the New York City Board of Education.
Hon. Ademola Seriki, as a grassroots politician began his career as a clerical officer at Lagos City Council, Lagos Island in 1978. He had a brief stint in the Banking and Finance sector both in Nigeria at IBWA and the United States of America at Citicorp. As a seasoned administrator, he held sway as Honourable Minister of the Federal Republic of Nigeria in the following ministries crucial to the Nation's economic, social security development namely:
Ministry of Agriculture and Water Resources
Ministry of Defence
Ministry of Mines and Steel Development
Ministry of Interior
He is a sports administrator and enthusiast. He was Chairman, Lagos State Sports Council and a member of the Local Organizing Committee (LOC) of 18th National Sports Festival as Chairman of Venue and Facilities Sub-Committee.
Aside from being a financial expert, he has caught a niche in business and politics. He is currently:
Chairman Maritime Academy of Nigeria
Chairman, Perpetual Communications Ltd (In partnership with ANNECTO U.K.)
Chairman, Primero tsl (Transport Services Ltd)
Director, Cappa and D'Alberto PLC (Civil and Building Engineers)
Member, New Partnership for Africa Development (NEPAD) Business Group